Volume. XXVII, No. 39
Sunday, 24 March 2013
Much has been said about the rise of China as an economic power during the recent turn of the new Millennia. However, 160 years ago during the height of 19th Century Western colonial imperialism, and way before the current modern World order could even be imagined, one of God's faithful saw the vast harvest field and the opportunities that existed in the mystical land in the Far East called China. As we ponder upon further opportunities to proclaim the Gospel in the Middle Kingdom in the 21st Century, perhaps we can draw encouragement and inspiration from the life story of one of God's most faithful servants in China in the 19th Century - Hudson Taylor.
The life and ministry of



James Hudson Taylor
Reproduced from Original Article by Ed Reese,
Christian Hall of Fame booklet series
Hudson Taylor was the most widely used missionary in China\'s history. During his 51 years of service there, his China Inland Mission established 20 mission stations, brought 849 missionaries to the field (968 by 1911), trained some 700 Chinese workers, raised four million dollars by faith, and developed a witnessing Chinese church of 125,000. It has been said at least 35,000 were his own converts and that he baptized some 50,000.
Taylor was born into a Christian home in Barnsley, England on the 21st May, 1832. His father was a chemist and a local Methodist preacher who himself was fascinated by China in his youth. Once at age 4, Hudson piped up, "When I am a man I mean to be a missionary and go to China." Father\'s faith and mother\'s prayers meant much. Before he was born they had prayed about him going to China someday. However, soon young Taylor became a skeptical and worldly young man. He decided to live for this life only. At 15 he entered a local bank and worked as a junior clerk where, being well adjusted and happy, he was a popular teen. Worldly friends helped him scoff and swear. The gaslight and the murk of this winter left his eyes weak the rest of his life. He left the bank in 1848 to work in his father\'s shop.
His conversion is an amazing story. When he was 17 years of age he went into his father\'s library one afternoon in June, 1849 in search of a book to read. This was in a barn or warehouse adjacent to the house. Finally he picked up a gospel tract entitled, "It is finished," and decided to read the story on the front. He came upon the expression, "The Finished work of Christ," Remembering the words, "It is Finished," he raised the question — "What was finished?" The answers seemed to fall in place and he received Christ as his Saviour. The same afternoon and time, his mother was visiting some 75 miles away. Experiencing an intense yearning for the conversion of her son, she turned the key in the door and resolved not to leave the spot until her prayers were answered. Hours later she left with assurance. She returned 10 days later and was met at the door by her son who said he had good news for her. She said, "I know, my boy. I have been rejoicing for a fortnight in the glad tidings you have to tell me." Mother Taylor had learned of the incident from no human source, but God had assured her.
Months later he began to feel a great dissatisfaction with his spiritual state. His "first love" and his zeal for souls had grown cold. On Dec. 2, 1849 he retired to be alone with the Lord and it seemed this was the time to promise the Lord he would go to China. Hudson started to prepare immediately by exercising in the open air and exchanging his feather bed for a hard mattress. He distributed tracts and held cottage meetings. With the aid of a copy of Luke\'s Gospel in the Mandarin dialect, he studied the Chinese language. He borrowed a book on China from a Congregational minister and began the study of Greek, Hebrew, and Latin.
In November, 1851, Hudson moved his lodging to a noisy suburb of Darinside, a neighborhood on the edge of town. Here he began a rigorous regime of saving and self-denial, spending spare time as a self-appointed medical missionary in cheerless streets where low wages, ever large families and gin produced brutalized husbands and wives and sickly children. Here he set up a test situation regarding his salary. His employer had asked Hudson to remind him when his salary became due. Taylor did not do this. One day in a poor home with evidently starving children, he prayed for them but had no peace until he gave the family all he had even down to his last coin. He went home happy in heart and the next day the postman brought a letter with enough money to make a 400% profit for only a twelve hour investment. He was convinced that money given in Christ\'s name was a loan which God would repay...and He did! One night about 10 pm on the day his rent was due (and his pockets were empty), his employer came by with his back wages. Experiences like these prepared him for his future life of faith.
In the Fall of 1852, he came to London under the auspices of the Chinese Evangelization Society, who arranged to pay for his training as a doctor at the London Hospital in the East End.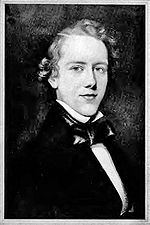 Hudson Taylor at 21
Glowing reports came from China and the CES urged Taylor to leave at once, medical course unfinished, to reach the Taipings (new rebel group called Heavenly Kingdom of Great Peace) at Nanking. These were supposedly Christian rebels that toppled Nanking in March, 1853. This Chinese rebellion lasted from 1850 to 1864. After further medical studies in London, he accepted appointment under the CES and sailed from Liverpool on September 19, 1853. He was the only passenger in the sailing vessel, Dumfries. He had a tempestuous voyage as the ship on two occasions was within a few feet of being wrecked. One harrowing experience is worth remembering. The sailing vessel was becalmed in the vicinity of New Guinea. The captain despaired as a four knot current carried them swiftly toward sunken reefs near shore. "Our fate is sealed!" Cannibals were eagerly waiting with delight and fires burning at the ready. Taylor and three others retired to pray and the Lord immediately sent a strong breeze that sent them on their way. Again one of his favorite texts, John 14:13 was proven. He finally reached Shanghai, China, March 1, 1854.
China at last...age 21 years, 10 months old! He was not prepared for the civil war on his doorstep. It was a shock to find that if the rebels did embrace Christianity, it was nominally on the part of the leaders alone from political motives. "Of the spirit of Christianity they knew little and manifested none." He was forlorn, miserable and homesick. His eyes were inflamed, he suffered headaches and was simply cold in the climate. His leisure time was consumed with long letters home to parents and sister. 1854 was still uncertain. As the military situation allowed, he explored the countryside, pursuing a hobby of insect and plant collecting, plus photography. Other missionaries took him on preaching tours and the Imperial Fleet once nearly opened fire on their boats at night in Woosung Creek. He was the only missionary actually a resident in Shanghai and this renewed his zeal for souls. But physical setbacks and the possible civil war coming ever closer made him realize life was no longer safe. He soon evacuated to the International Settlement geared for the foreign population. He was appalled at the idleness of many missionaries and their critical, sarcastic remarks. In early 1855 he started preaching tours — a week or more with another missionary or alone. There were ten such journeys in his first two years. In February, 1855, the Imperial armies with rebel French support had stormed and sacked the starving city of Shanghai, making the streets hideous with human suffering. As peace returned he considered permanent residence in some interior city, or else he must find his way 700 miles to Nanking, capital of the Taipings. Either would forfeit consular protection. Before deciding, he went up the Yangtze River for three weeks in April with John Burdon. It was a trip that nearly cost their lives. At Tungchow, a city of evil repute, they were attacked by ruffians and were brought to a magistrate of sorts who saw that they were escorted safely out of the city.
…. to be continued on 7 April 2013
Deacon Wai Kin Wong